Learn more about High-Tech High Heels and our more than 20-year history working to achieve gender-equity in the STEM workforce.
High-Tech High Heels is a 501(c)(3) nonprofit organization dedicated to closing the gender gap by supporting nonprofit and school-based programs that are improving STEM education and providing engaging and inspiring STEM experiences for K-12 girls and young women. 
We do this by raising funds and granting money to organizations that offer educational and hands-on training opportunities that encourage girls to persist and succeed in STEM. 
Our goal is for all girls to have the opportunity to pursue the STEM career of their choice — limited only by their talents, efforts, and aspirations. 
Mission
To invest in the education and development of young women to increase the number who pursue STEM careers.
Vision
To achieve equitable representation of women in the STEM workforce.
Guiding Principles
Our guiding principles provide a framework for how we conduct business and make decisions within our organization.
Our Approach
We operate with chapters in North Texas, Silicon Valley, Colorado, and Southeast Texas — communities where needs are best aligned with our vision, mission, and expansion criteria — with planned expansion into new locations in the future. In each of these locations, we:
Add value through the funding, integration, and development of engaging and inspiring programs that support a STEM experience pipeline focused on young women.

Develop and invest in strategies that are proven to be impactful in increasing young women's success in STEM: development of persistence skills, academic improvement, and career exposure.

Evaluate programs using our scorecard of STEM Success Indicators, direct grant-making dollars for maximum impact and invest in and innovate the most effective programs.
Commitment to Equity
We are committed to evaluate and treat every donor, grant request and recipient, board member, and volunteer equally in support of all races, genders, and sexual orientations. Our aim is for members and stakeholders to be treated with dignity and respect.
Our Financials
Trust is one of our guiding principles, which is why we share our IRS Form 990 (as required by law) and our independently reviewed financial statements.  
High-Tech High Heels prioritizes grants for organizations that: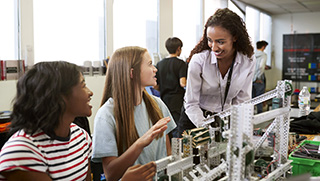 INSPIRE girls and young women to see themselves as future STEM professionals and see the variety of STEM careers available.
ENGAGE girls and young women in hands-on experiences in STEM, including programs and experiences that complement classroom learning and achievement.
EDUCATE students, teachers, and counselors through activity-based STEM learning opportunities and educator training on overcoming unconscious bias in the classroom.
High-Tech High Heels was founded in 2001 by a group of women with a shared vision of achieving more equitable representation of women in the science, technology, engineering and math (STEM) fields. Our founders knew that closing the gender gap in STEM would require increasing the number of girls and young women pursuing career paths in STEM.
So, they pooled their resources to create a donor-advised fund so they could grant to programs to support this vision and mission. However, in 2001, there were no programs to support these objectives.
Not to be deterred, these amazing women developed their own programs to educate and inspire high school girls to succeed in STEM, including a physics camp for Dallas high-schoolers and teacher training in North Texas to help uncover unconscious biases in the classroom. 
These programs served as the building blocks for the current organization, which gained nonprofit status in 2015. The change in structure was driven by a desire to expand the group's potential impact in communities outside North Texas.
It also precipitated the creation of an umbrella national organization that provides guidance and governance for chapters across the U.S. The first was in Silicon Valley, which has a large technical community, in 2019. Chapters in Colorado and Southeast Texas started in 2021. Communities where needs are best aligned with our mission and vision. And future expansion is expected. 
HTHH continues to build a community of STEM professionals, educators, counselors, and more who want to see more women in STEM.
Timeline
2001
HTHH is Founded
30 women from Texas Instruments made personal contributions to establish a donor-advised fund with the Dallas Women's Foundation.
2003
AP Physics Camp
HTHH funded its first physics camp for female students in Dallas Independent School District.
2004
Gender Equity Training
HTHH held its first gender equity training to STEM counselors and educators with a grant to UT Arlington College of Education.
2011
Speaker's Bureau
HTHH recruited women in STEM to work with participants at physics camps and other events.
2015
501(c)(3) Nonprofit
HTHH became a nonprofit organization, investing our funds with the Communities Foundation of Texas (CFT) to enable us to scale our impact.
2017
Silicon Valley Chapter
HTHH expanded its reach and impact to the California Bay Area.
2019
$1M in Grants
HTHH exceeded $1 million in grants to support programs that further our mission.
2020
STEM Indicators for Grants
HTHH adopted national STEM indicators for the evaluation of grants.
2021
20th Anniversary
HTHH celebrated its 20th anniversary and provided $1.5 million in grants HTHH also developed a scorecard to show the impact of women in STEM.
2022
SE Texas and Colorado Chapters
HTHH launched new chapters in Southeast Texas and Colorado.